Facebook info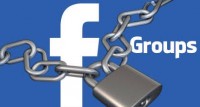 The Key to joining Facebook Groups.
Hints and tips for prospective members:
By Andy Keir.



Do you keep getting knocked back for membership of Facebook Groups?
Here are some things which may improve your chances:

Have a complete profile which includes your picture, your location and some information about you.
Use a real name for your Facebook account, not a silly made-up name.
Try to show in your profile an interest in what the group is about. If it's a motorhome group then some pictures of your motorhome in your profile would help to show you have a genuine interest.
Look for any questions that the groups asks prospective members … and answer those questions.